Toasts in German: get ready for the feast properly! Toasts for all occasions! Wishes and congratulations!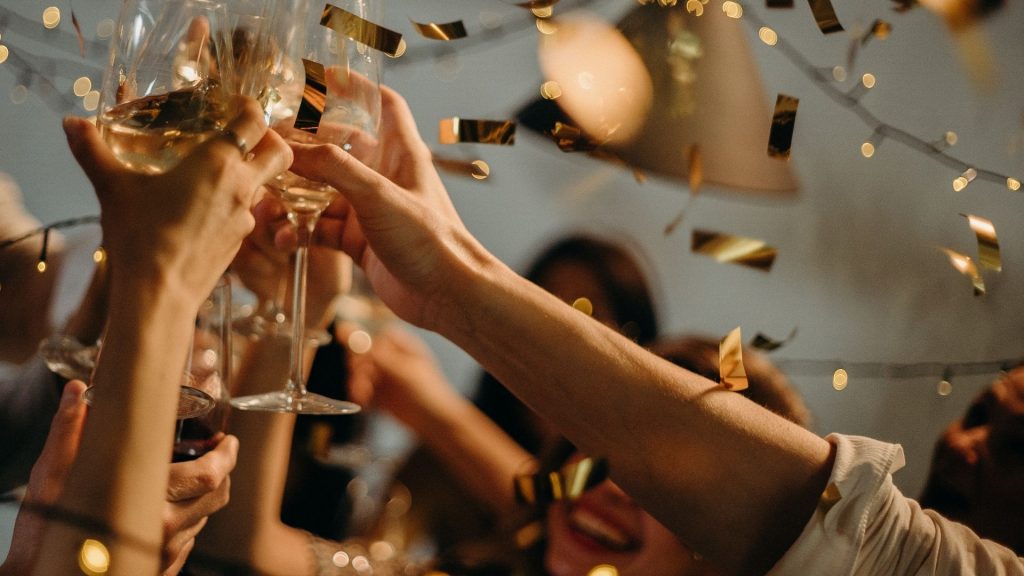 "Toast" in German is called Trinkspruch:
trinken – to drink, Spruch – utterance.
Germans rarely make long toasts. The most common are:
Prost! – Cheers! / It is a universal toast, the equivalent of "cheers" in English.
Zum Wohl! – Cheers!
Auf Dich! – Cheers! / To you! (informal)
Auf Sie! – Cheers! / To You! (formal)
Auf uns! – To us!
Auf unser Treffen! – Cheers! / To our meeting!
Auf das Glück! – To Happiness!
Auf den Erfolg! – For success!
Auf die Eltern! – For parents!
Auf Liebe! – To love!
Guten Rutsch – Happy New Year!
Guten Rutsch ins neue Jahr! – Have a good slide to the new year!
Einen guten Start ins neue Jahr! – A good start in the new year!
Wir wünschen viel Glück, Erfolg und persönliches Wohlergehen im neuen Jahr. – We wish you much happiness, success and prosperity in the New Year.
Birthday toasts!
If you're celebrating a birthday, you should of course wish the birthday boy/girl a happy birthday by raising your glasses to him/her:
Auf das Geburtstagskind! – To the birthday girl/the birthday boy!
Herzlichen Glückwunsch zum Geburtstag! – Happy birthday!
Trinken wir darauf, dass Träume nicht nur zum Geburtstag wahr werden! – Cheers to making dreams come true not only on your birthday!
And a few more universal toasts
Trinken wir auf den Erfolg unseres Vorhabens! – Let us toast to the success of our business!
Trinken wir darauf, dass wir immer einen Grund zum Feiern haben! – Let's drink to the fact that we always have a reason to celebrate!
Lasst uns das Leben immer so geniessen wie dieses Glas Wein! – Let us always enjoy life as with this glass of wine!
Trinken wir darauf, dass wir uns hier versammelt haben und dass wir uns öfter treffen! – Let's drink to the fact that we are gathered here, and that we gather more often!
And lastly, an important point: in Germany, it is customary to look someone in the eye as you 'clink' your glasses.

Give our Telegram channel a follow
& receive your daily dose of German